Smartwatch MAIMO WATCH FLOW Blue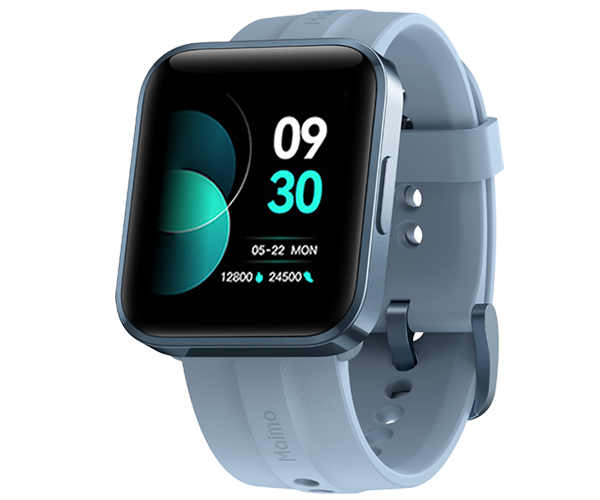 Maimo Watch Flow smartwatch
Built-in GPS module
Timeless design, high quality workmanship, elegant appearance
AMOLED touch screen with a diagonal of 1.6″
High level of color contrast – information is extremely clear
Excellent visibility of all information on the display – from any angle!
Water resistance class 5 ATM
As many as 116 sport modes
Huge selection of dials and the ability to personalize them
Ability to customize widgets according to your preferences and needs
Calendar synchronization function
Always on display – reduces power consumption
Find phone function
Sleep monitoring, monitoring of stress levels, blood oxygen, heart rate
MaiDay intelligent AI assistant
Slim and lightweight – weighs just 26.2g
Up to 12 days of battery life!
Maimo Watch Flow smartwatch
Meet the latest smartwatch from the Maimo family designed with you and your needs in mind. Watch Flow is a sports watch made with attention to every detail that you will customize for your individual activity planning needs. The device will monitor your physical activity, precise location (built-in GPS module), sleep quality, saturation and heart rate, allowing you to keep track of your health and fitness more easily and effectively. Maimo Watch Flow is equipped with an AMOLED touchscreen display with a resolution of 320×360 px, which provides an extremely clear image, vivid colors and fast response to movement. The smartwatch fits any wrist, not only looks classy and elegant, but also provides high wearing comfort.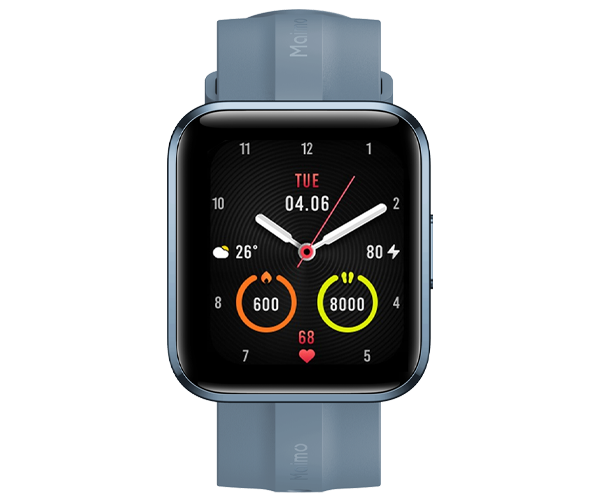 Maimo Watch Flow smartwatch
High-resolution AMOLED touchscreen with a diagonal of 1.6″
AMOLED display with a resolution of 320*360, provides extremely clear images, vivid colors and fast response to movement. The watch's stainless steel envelope with anti-fingerprint coating not only looks elegant on the wrist, but also makes the smartwatch more durable and resistant to wear and tear from daily use.
You can personalize the watch's dials – express yourself!
Maimo Flow has more than 100 built-in dials, including more than 60 Always-On-Display dials to match your taste, mood and special occasions! You can personalize the display as much as possible, just take a picture of your outfit and the watch will generate a unique and unique matching dial. The watch also has built-in art filters that you can apply to your own photos, giving the watch dial the look of a masterpiece.
MaiDay -Your private assistant Al
Time for a morning run? With just one movement, a lift of the wrist, you can quickly access the running tracking module. Equipped with the Maimo-developed Al system, MaiDay is like a private assistant that spends the whole day with you and learns your habits, providing personalized information and functional shortcuts at different times accordingly.
Your personal trainer
The watch supports up to 116 sports modes including fitness, dance, ballet, pool swimming, rowing and more. Watch your heart rate and calories burned while playing any sport. In some of the available sports, the Maimo Watch Flow sports watch automatically detects, starts and stops tracking your workout.
Reliable also in water
The 5 ATM water resistance rating allows you to track many water sports, including swimming, snorkeling and even scuba diving.
Blood oxygen level measurement
Your blood oxygen level describes the amount of oxygen carried by your red blood cells. Whether you're exercising or just feeling unwell, measure your SpO2 level to better understand your physical condition.
24-hour heart rate measurement
Heart rate is a key indicator of health, and the data collected will enable you to achieve your fitness goals more effectively. 24-hour heart rate monitoring also allows you to measure your stress levels at any time. In stressful situations, you can use the built-in breathing workout, which will show you exercises to calm your body and mind.
*This product is not a medical device. The data and results are for illustrative purposes only and should not be considered as a basis for diagnosis.
Sleep monitoring
Maimo Watch Flow will monitor your sleep and allow you to understand its phases. When you wake up and analyze the results, we can easily assess the impact of your lifestyle on your sleep. You will quickly realize how healthy sleep affects your well-being! During your pre-set sleep time, you can also turn on "do not disturb" mode, which will automatically turn off all notifications.
Music control
Listening to your favorite music while running, going about your daily chores and relaxing just got even easier!
Calendar synchronization – never miss an important event
You can sync your Watch Flow with the calendar on your phone. The smartwatch will send a reminder of upcoming events, so you will never miss an important occasion again.
Find phone function
When your watch and phone are connected, you can use one to find the other. Save yourself the hassle of searching for a lost device.
More than 12 days of battery life on a single charge
Maimo Watch Flow lasts up to 12 days of battery life with typical use, with active GPS sports modes and 24/7 health tracking. And up to 20 days in battery-saving mode, with basic watch functions enabled.
Maximum accuracy – confidence and security
Maimo Watch FLOW is equipped with 4 built-in positioning systems, including GPS, GLONASS, Galileo and BDS The watch tracks your exact location and exercise route whether you are in the city, in the mountains or out of the country.
Something especially for women – menstrual cycle tracking
The smartwatch is equipped with a menstrual cycle calendar function. You won't need a separate app, all your menstrual cycle information will be in one place.
*This function requires you to first enter your menstrual cycle information in the app.
Easier management of functions with widgets
Maimo Watch Flow will allow you to manage functions more easily with widgets! Personalize settings based on your preferences. Customize widgets and get easier access to the current weather or your health data you care about most. Widgets available in the Maimo Fit app. "Weekly Fitness Planner" offers professional metrics for measuring exercise time and calories burned, helping you track your fitness goals.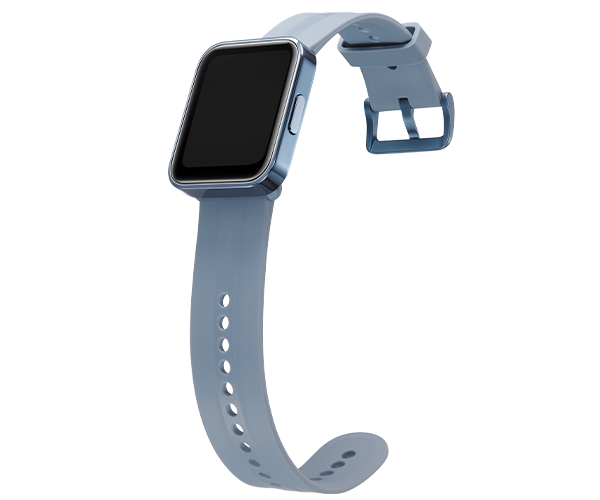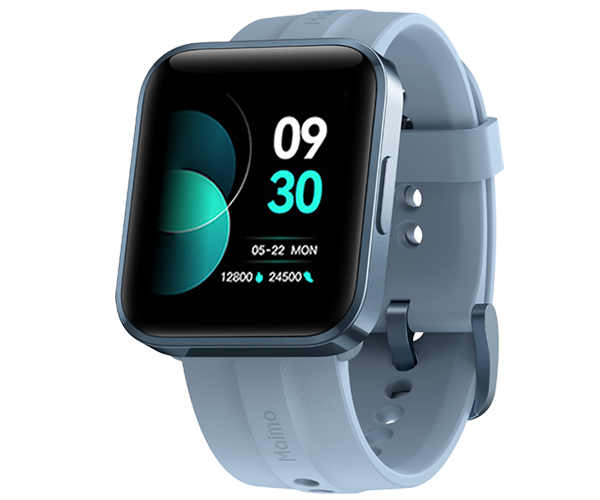 Specifications
Model
Maimo Watch Flow WT2106
Touchscreen resolution
320 × 360px
Connection
Bluetooth 5.0 BLE
Satellite navigation
GPS / GLONASS / BDS / Galileo
Supported devices
Android 6.0 +, iOS 9.0 +
Sensors
G sensor / PPG Heart Rate Sensor
Weight (excl. strap)
26,2g
Package content
Smartwatch Maimo Watch Flow blue
Original manufacturer's packaging
User Manual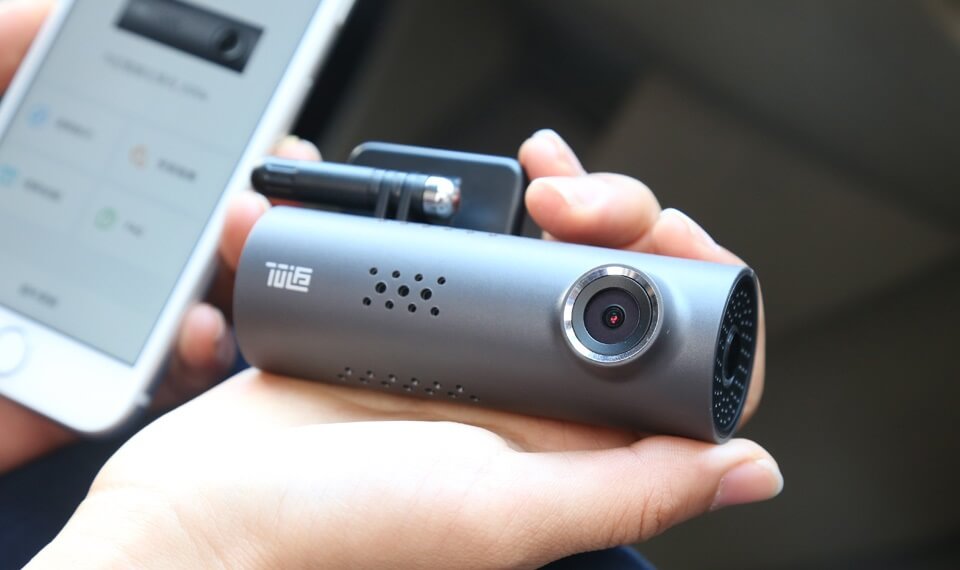 Need more information on 70mai products?
Looking for a solution to a technical problem – contact us, our consultants are at your disposal.
They will provide you with all the necessary information and find a solution to the problem related to your product.